Technical Support
Our experienced team of experts offers professional support and provides optimal solutions for customers.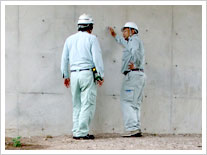 The Cement and Concrete Technical Center in Kanda Plant serves as a platform for solid technical support for our customers, exploring technical solutions for building materials: cement, ready-mix concrete and precast.
Technical support for cement products
Aso Cement provides various kinds of technical support for customers who have purchased our cement products. Our free support coverage is defined as follows:
Free Support Coverage
General consultation about cement and concrete
Consultation and advice for JIS review
Consultation and advice for JIS surveillance
Consultation and advice for cement mixing design
Provide technical information on concrete
Consultation and advice for revision of company standards and plant standards
Hold briefing session on JIS revision
Documentation checking for concrete quality management
Provide technical study sessions
Provide technical trainings on concrete *see notes
Workshop for concrete engineer examination *see notes
Deal with complaints originated from cement
Note : participants need to cover their traveling expense, sojourn expense and actual expense for organizing.
---