Innovative Products
Innovation is a key focus at Aso Cement. Our team of experts works on creating innovative products which are environmentally friendly and provide high added value for customers.
NAIDUST®, environment and people friendly cement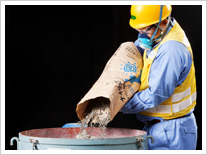 NAIDUST® is environment-friendly technological cement, which effectively controls dust emission and scattering during construction. By adding a small amount of Teflon™, NAIDUST® offers its dust-inhibiting properties without compromising the ease of application and without affecting its physical properties of a conventional cement. NAIDUST® is particularly suitable for construction in urban areas, vegetable gardens or fruit farms where dust-control is desired.
High level dust-control effect
NAIDUST® cuts a significant amount of dust during construction, highly effective to
conserving the neighboring environment
improving work environment
Wide applicability as Ordinary Portland Cement
NAIDUST® offers the same level of strength development as ordinary Portland cement, equally suitable for same usage.
Note
NAIDUST is the first product of its kind in the world. Aso Cement has obtained a patent for the production technology of this product jointly with Chemours-Mitsui Fluoroproducts, Nippo, Murakashi Lime Industry.
---