Logistics Network
20 terminals located throughout the western Japan
Benefiting from our efficient Logistics network, our cement products are carried by truck directory from our plants to customers or to one of our 20 distribution terminals located throughout the western Japan.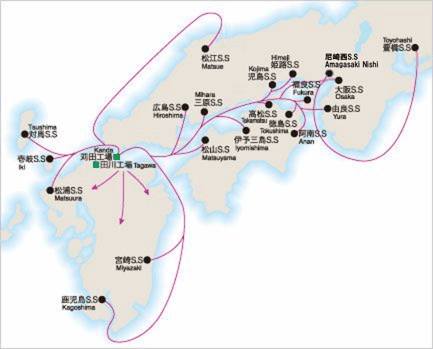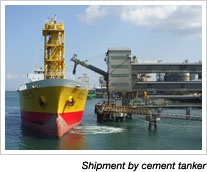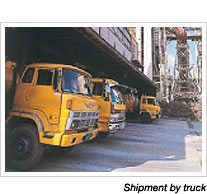 Delivering reliability to customers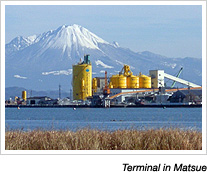 Automated Weighbridge Dispatch System is installed at the plants and some of our terminals, which enable faster and more efficient delivery to customers. Our Logistics staff ensures prompt and accurate services through the internal network system, which links all terminals with our head office, plans and branches.
Improving logistics efficiency and care for the environment
Aso Cement seeks the most cost-effective way of providing shipment. In cooperation with the Procurement team, our Logistics staff plays a key in the supply chain by arranging the purchase and delivery of finished products and obtaining and delivering raw materials and other sub-materials for cement production. Improving the efficiency of logistics not only contributes to reducing cost, but also lessens the burden on the environment.
Terminals
Kyushu area
Matsuura terminal
(Google Map)
2406, Higashimen, Imafuku-cho, Matsuura-shi, Nagasaki, 859-4522
Tel : +81-956-74-1461, Fax : +81-956-74-1461
Tsushima terminal
(Google Map)
372, Oaza Koura, Izuhara-machi, Tsushima-shi, Nagasaki, 817-0001
Tel : +81-920-52-4173, Fax : +81-920-52-4173
Iki terminal
(Google Map)
Wataraminamifure, Gonoura-cho, Iki-shi, Nagasaki, 811-5152
Tel : +81-920-47-3868, Fax : +81-920-47-3868
Kagoshima terminal
(Google Map)
2-26, Taniyamakou, Kagoshima-shi,Kagoshima, 891-0131
Tel : +81-99-262-0777, Fax : +81-99-262-0779
Miyazaki terminal
(Google Map)
814, Oaza Uchiumi, Miyazaki-shi, Miyazaki, 889-2301
Tel : +81-985-67-1100, Fax : +81-985-67-1101
Chugoku area
Matsue terminal
(Google Map)
3-7, Fujimi-cho, Matsue-shi, Shimane, 690-0026
Tel : +81-852-37-0236, Fax : +81-852-67-6320
Kojima terminal
(Google Map)
4051, Kojimaajino, Kurashiki-shi, Okayama, 711-0913
Tel : +81-86-473-1534, Fax : +81-86-473-1534
Hiroshima terminal
(Google Map)
2-19-40, Dejima, Minami-ku, Hiroshima-shi, Hiroshima, 734-0013
Tel : +81-82-254-1204, Fax : +81-82-254-1204
Mihara terminal
(Google Map)
Ganpekichisaki, Itosaki, Mihara-shi, Hiroshima, 729-0324
Tel : +81-848-62-3195, Fax : +81-848-61-0525
Shikoku area
Takamatsu terminal
(Google Map)
742-14, Kozaihonmachi, Takamatsu-shi, Kagawa, 761-8012
Tel : +81-87-881-2374, Fax : +81-87-881-2374
Matsuyama terminal
(Google Map)
77-16, Oaza Kitayoshida, Matsuyama-shi, Ehime, 791-8041
Tel : +81-89-972-0958, Fax : +81-89-972-0958
Tokushima terminal
(Google Map)
1, Hamanosu, Hiroshima, Matsushige-cho, Itano-gun, Tokushima, 771-0220
Tel : +81-88-699-2885, Fax : +81-88-699-2885
Iyomishima terminal
(Google Map)
1-2327-1, Miyagawa, Shikokuchuo-shi, Ehime , 799-0404
Tel : +81-896-23-0500, Fax : +81-896-23-0500
Anan terminal
(Google Map)
107-9, Kouno, Tachibana-cho, Anan-shi, Tokushima, 774-0023
Tel : +81-884-27-0273, Fax : +81-884-27-0273
Kinki and Tokai area
Osaka terminal
(Google Map)
2-8, Takasago, Takaishi-shi, Osaka, 592-0001
Tel : +81-72-268-1064, Fax : +81-72-268-1406
Amagasaki Nishi terminal
(Google Map)
6-1, Tsurumachi, Amagasaki-shi, Hyogo, 660-0092
Tel : +81-6-6412-3217, Fax : +81-6-6412-3218
Fukura terminal
(Google Map)
135-11, Fukurasoekou, Minamiawaji-shi, Hyogo, 656-0501
Tel : +81-799-52-1365, Fax : +81-799-54-0163
Himeji terminal
(Google Map)
Aza Hama Manzaichisaki, Hosoe, Shikama-ku, Himeji-shi, Hyogo, 672-8064
Tel : +81-79-235-7338, Fax : +81-79-235-7502
Yura terminal
(Google Map)
1004-2, Aza Shiraki, Oaza Ato, Yura-cho, Hidaka-gun, Wakayama, 649-1113
Tel : +81-738-65-0468, Fax : +81-738-65-2885
Toyohashi terminal
(Google Map)
10-1, Jinnofuto-cho, Toyohashi-shi, Aichi, 441-8075
Tel : +81-532-33-0822, Fax : +81-532-33-0778
---