Sustainable Development
Aso Cement is committed to working in a sustainable manner - sustained economic growth cannot occur without social progress, environmental protection and respect for local communities.
Environmental Policy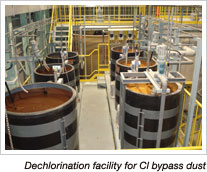 Safety is our utmost priority as our fundamental philosophy of respecting human life in our business activities. Moreover, we seriously care about conserving the global environment, such as global warming, depletion of ozone layer, and acid rain, and position efforts to preserve the environment as one of the most important challenges in our business activities, making full use of all of our resources, to contribute to realizing sustainable society as a venous plant that operates at all times in a safe- and environment-conscious way.
Efforts towards reduction of specific energy consumption
Aso Cement positions efforts to reduce fossil fuel use, preserve the environment, and prevent global warming as the most crucial challenges of our business activities in order to contribute to realizing a sustainable recycling society.
A significant amount of energy (thermal energy and electric energy) is consumed in the cement manufacturing process, and this process generates carbon dioxide (CO2), greenhouse gases. Aso Cement is committed to work in a sustainable manner as reducing the energy consumption leads to reducing the generation of CO2.
Participation in a trial emission trading scheme and continuous efforts for reduction
Aso Cement participated in a "trial emission trading scheme in the domestic integrated market" that the Ministry of Economy, Trade and Industry and the Ministry of the Environment initiated in 2008, setting up reduction targets of specific energy consumption from fiscal years 2008 to 2010, and worked to achieve them.
The 2010 target was 3,470 MJ/t-cement with the actual result of 3,099 MJ/t-cement, which was below the target by 371MJ/t-cement. This can be calculated to be an annual reduction of about 62,000t in CO2.
Further to these results, we continued to reduce the energy consumption after the target year of 2010, achieving more reduction, 2,980 MJ/t-cement in 2011, 119MJ/t-cement more than in 2010.
Note : Specific energy consumption: Total amount of thermal and electric energies that are required to manufacture 1 ton of cement.
Transition of specific energy consumption to manufacture cement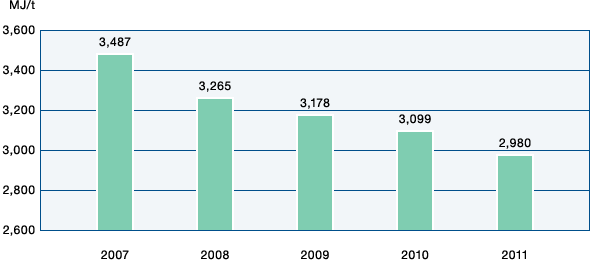 Aso Cement's energy efficiency efforts
Aso Cement is trying to reduce the specific energy consumption required for cement production through the following efforts, contributing to reducing the emission of greenhouse gases.
Reduction of thermal energy by improving the combustion efficiency during the cement baking process,
Reduction of using thermal energy of fossil fuel by applying more alternative thermal energy resources, such as industrial waste products,
Increase of in-house power generation using exhaust heat from the cement production process itself, and
Reduction of electric power energy by improving the grinding efficiency of raw materials and cement grinders.
---