People Development
Aso Cement is committed to giving our employees every opportunity to develop their talents, placing people development as one of our key business priorities.
Developing talents and performance of our employees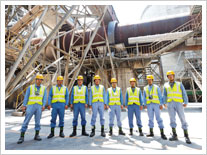 Our employee's expertise, motivation and ability to develop and to demonstrate flexibility, creativity and entrepreneurial spirit are key to the overall success of the company.
Aso Cement is committed to offering a supportive environment to develop talent and performance of our people, incorporating a competency evaluation and a Management by Objectives (MBO) approach.
Individual Development Plan
Skilled and satisfied employees will play an important role in our long-term success. Aso Cement incorporates an Individual Development Plan (IDP), a tool which helps to facilitate employee development. It's a two-way commitment between an employee and their manager on how to grow professionally. With short, medium and long-term talent development targets, employees choose the most appropriate training methods from various options and take on learning opportunities, which are offered through both internal and external programs.
Language education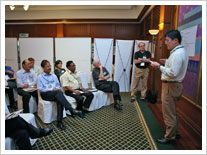 In today's global business environment, English is an essential communication tool. In Aso Cement, an extensive English program is in place to help employees to develop their English skills required to carry out work.
Safety training and safety workshops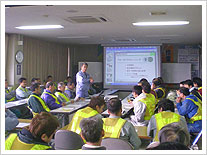 Aso Cement aims to be the safest company in the world, making the most of every opportunity to provide our employees and stakeholders with a wide range of safety training. Many of our employees take on the role of instructors to promote and maintain a safe and healthy working environment.
Systems to support employees' motivation for learning
External seminars
Induction programs
Support systems for personal development
Support systems for various qualifications
---