Safe Application Guide for Solid Ace Series
Please read through the "Safe Application Guide for Handling Solid Ace Series" before using any of our Solid Ace products.
Use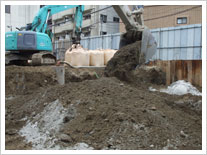 Solid Ace is designed as a cement stabilizer to improve soil. Do not use it for mortar concrete. The product and subject soil should be mixed together evenly for best improvement effect. An appropriate amount of the product should be added to the subject soil. Insufficient mixing or mixing an excessive amount of the product with the soil could result in the swelling of the improved soil. Elution tests should be conducted before use to make sure that the elution of hexavalent chromium from the improved soil is within the value set in the environmental quality standards set for soil.
Health and safety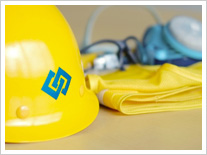 This is an alkaline product. Thus, it can cause irritation to the skin, eyes, or respiratory system after contact. In the case that the product comes in contact with the eyes, wash them with water immediately and consult with a medical specialist. During the use of this product, please wear protective gear, such as protective glasses, mask and gloves. As this product contains a trace amount of chromium compound, it could cause one who is hypersensitive to hexavalent chromium to have an allergic reaction.
Storage
When storing the product in work sites, please use palettes and the like to prevent the product from moisture (DO NOT place the product directly on the ground). In humid or moist conditions due to rain or for other reasons, cover the product with plastic sheets securely.
---